Lung cancer is the number one cause of mortality worldwide. The most important reason behind this prevalence is its correlation with smoking tobacco. Due to its aggressiveness, it's important to discuss one such type of lung cancer – small cell lung cancer so that we can prevent it and catch it earlier. Although rare to catch, if managed early on through chemotherapy and radiation, the prognosis can be good; otherwise, small-cell lung cancer is life-threatening.
What is Small Cell Lung Cancer?
Previously known as "oat cell carcinoma," it is a type of lung cancer that is fast-growing and mostly only affects smokers. While this form of cancer is comparatively rare, it is extremely fast-growing and often metastasizes to bone, liver, and adrenal glands. It is said to be neuroendocrine in origin. Pulmonary neuroendocrine cells (PNECs) line the airway except for the alveoli and have hypoxia and nicotine sensors and then release neuropeptides to improve the airway (Noguchi). A disruption and malignancy of PNECs lead to small cell cancer.
Small Cell Lung Cancer Vs. Non-Small Cell Lung Cancer
Small cell lung cancer makes up around 10 to 15% of all lung cancers, while non-small cell lung cancer accounts for 80%.1Basumallik, N. and Agarwal, M., 2022. Small cell lung cancer. In StatPearls [internet]. StatPearls Publishing.
However, the primary difference between small cell lung cancer (SCLC) vs. non-small cell lung cancer is the histology, i.e., how these cells look under a microscope. Small cell lung cancer cells are smaller and appear flat, while non-small cell lung cancer cells are bigger and rounder.
Types of small cell lung cancer:
The SCLC comes under two main categories: small cell cancer (oat cell cancer) and small cell combined cancer. It grows rapidly and spreads quickly, but the upside is that it responds dramatically to chemotherapy and radiation therapy, while non-small cell lung cancer does not.
Types of non-small cell lung cancer:
It can be divided into three subtypes: squamous cell carcinoma, adenocarcinoma, and large cell undifferentiated carcinoma. Adenocarcinoma is the most common, but only squamous cell carcinoma has been linked to smoking. On the other hand, small-cell lung cancer is closely related to smoking.2Rudin CM, Brambilla E, Faivre-Finn C, Sage J. Small-cell lung cancer. Nat Rev Dis Primers. 2021 Jan 14;7(1):3. doi: 10.1038/s41572-020-00235-0. PMID: 33446664; PMCID: PMC8177722.
Causes
Smokers, whether active or passive, are at the highest risk of developing small-cell lung cancer.3Sher, T., Dy, G.K. and Adjei, A.A., 2008, March. Small cell lung cancer. In Mayo Clinic Proceedings (Vol. 83, No. 3, pp. 355-367). Elsevier.
Other risk factors include:
Family history of lung cancer
A compromised immune system, such as HIV-positive patients
Exposure to radiation from imaging techniques or previous cancer treatments
Exposure to workplace pollutants such as asbestos, arsenic, nickel, and tar
Exposure to radon gas, which is an inert gas that forms from the decay of uranium
Symptoms of Small cell lung Cancer:
In most cases, small cell lung cancer is asymptomatic, i.e., it does not present with any symptoms, which is why it often goes undetected for months. Usually, by the time patients seek medical attention, the cancer has already spread to other parts of the body.
Naturally, the severity of the symptoms is directly proportional to the spread and growth of the cancer.
Symptoms can result from a couple of factors, including local growth of the tumor, local metastasis (spread of cancer to nearby parts of the body), distant metastasis (spread of cancer to far-off areas of the body), and paraneoplastic syndromes, all of which are described as follows.4Bernhardt, E.B. and Jalal, S.I., 2016. Small cell lung cancer. Lung Cancer: Treatment and Research, pp.301-322.
Local spread:
Cough
Hemoptysis, which means coughing up blood
Shortness of breath
Pleuritic chest pain, which gets worse with deep breathing
Near Metastasis :
Dysphagia, which is difficulty swallowing due to compression of the esophagus
Hoarseness of voice from compression of the nerve that supplies the vocal cords
Pulmonary edema (collection of fluids in the lung) and diaphragmatic nerve compression, all of which lead to difficult breathing.
Stridor from compression of the trachea/windpipe.
Swollen hands and face due to compression of the superior vena cava
Clubbing
Distant Metastasis:
Brain – headache, blurry vision, seizures, nausea, vomiting, trouble concentrating, mental changes, weakness in any limb, memory loss
Vertebral column – back pain
Spinal cord – paralysis, incontinence such as loss of bladder or bowel function
Bone – bone pain, fractures
Liver – pain in the upper right quadrant of the abdomen, vomiting, jaundice
Paraneoplastic Syndromes:
Constitutional symptoms such as fatigue, loss of appetite, weight changes
Trouble walking or maintaining balance
Severe muscle weakness
Changes in mental status
Changes in facial features, skin texture, and skin color, nails including clubbing
Prognosis
It is an aggressive form of cancer and can go undetected for months, which is why the small-cell lung cancer survival rate tends to be low. However, if caught early in the limited stage, the prognosis is better.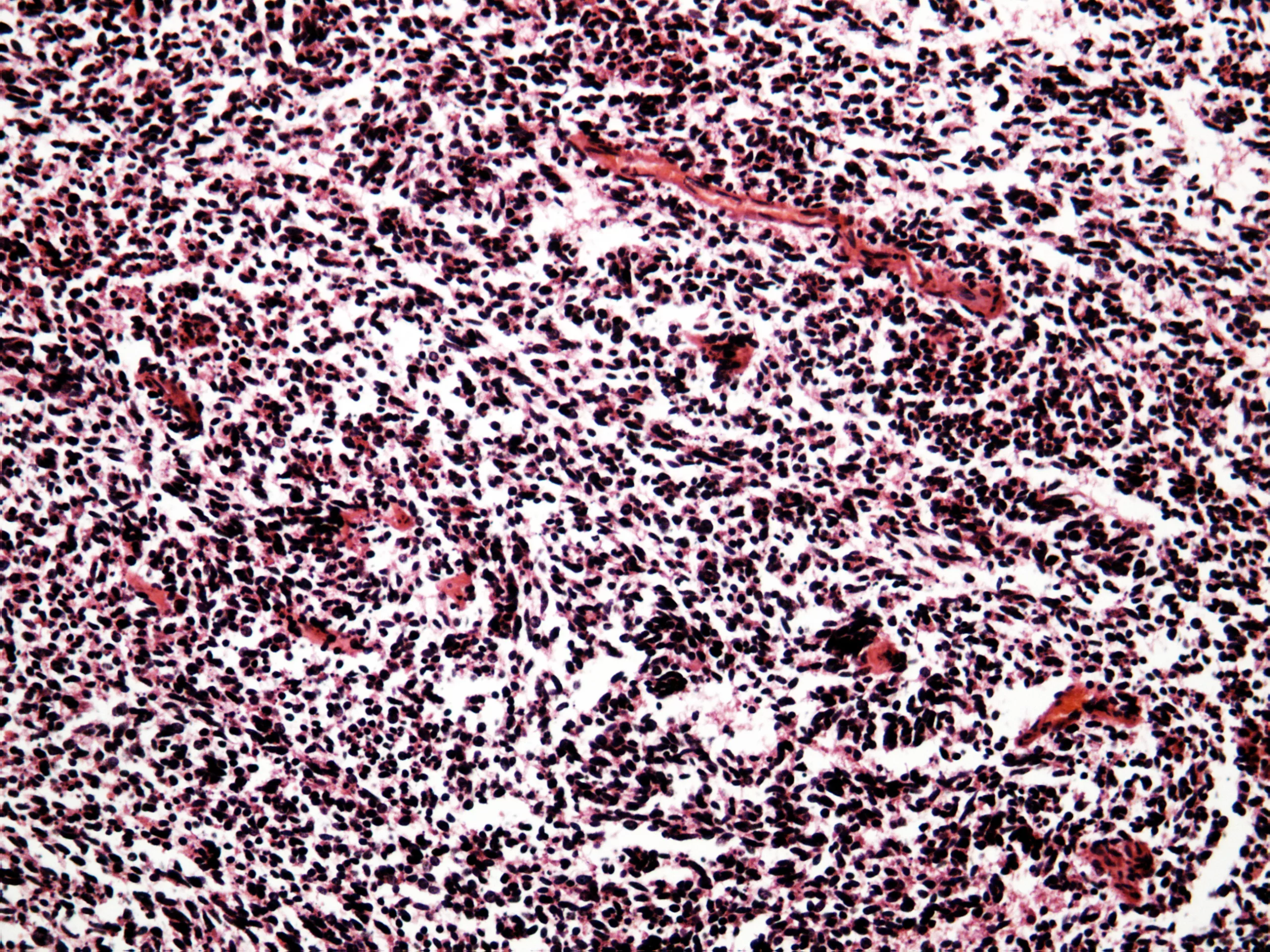 Stages of Small Cell Lung Cancer
Staging your lung cancer involves determining how far and how much the cancer has spread. It gives your doctor an outlook on your health and helps them devise the best treatment plan for you. Small-cell lung cancer is divided into the following two stages.5Basumallik, N. and Agarwal, M., 2022. Small cell lung cancer. In StatPearls [internet]. StatPearls Publishing.
Limited Stage:
The better of the two, limited stage means that the cancer is confined to one side of the chest, the tissues between the chest, and nearby lymph nodes. While the chances of getting diagnosed at this stage are less, the treatment is more aggressive, and remission is possible.
Extensive Stage:
This stage involves the lungs, lymph nodes on both sides, and distant organs. Most patients are diagnosed when their cancer is in the extensive stage, which means their treatment regimen is only focused on relieving symptoms and prolonging life.
Life Expectancy for Small Cell Lung Cancer
Life expectancy in limited stages is a median survival of 12 to 16 months with treatment, while extensive-stage SCLC has a median survival of 7 to 11 months with treatment.6Rossi, A., Maione, P., Colantuoni, G., Guerriero, C., Ferrara, C., Del Gaizo, F., Nicolella, D. and Gridelli, C., 2005. Treatment of small cell lung cancer in the elderly. The Oncologist, 10(6), pp.399-411.
Survival Rate
According to a 2021 study, 25% of patients diagnosed with SCLC have a 5-year survival rate with treatment. However, in most early-staged patients, the survival rate is less than two years, while less than 1 in metastatic stages (RUDIN). On the other hand, advanced stage 4 non-small cell cancer has the highest mortality rate, with only 8% of patients surviving up to 5 years.7Yang, C.F.J., Gu, L., Shah, S.A., Yerokun, B.A., D'Amico, T.A., Hartwig, M.G. and Berry, M.F., 2018.
Diagnosis
One of the initial steps in diagnosing small cell lung cancer is by gaining an adequate history of the patient. Your healthcare provider will ask you questions about your health, inquire about the relevant symptoms any unusual changes in the past month, and perform a physical examination. The following includes the most commonly ordered tests:
Chest X-Ray:
CXR is the mainstay of diagnosing respiratory illnesses. Hence if there is any tumor growth, it will show up on the X-ray as spots on the lungs.8Panunzio, A. and Sartori, P., 2020. Lung cancer and radiological imaging. Current radiopharmaceuticals, 13(3), pp.238-242.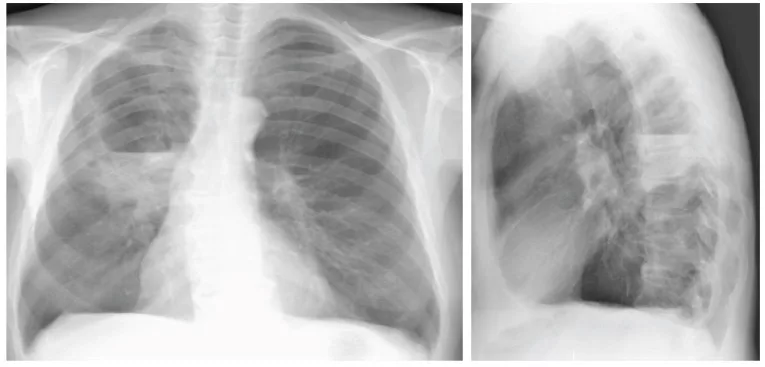 CT Scan:
In case there are any worrisome changes in the CXR, getting a CT scan is the next step. A CT scan or a CAT scan provides a detailed picture of your chest to reveal any abnormalities, their site, and their structure.
PET Scan:
A cardinal diagnostic test used in all kinds of cancer, a positron emission tomography (PET scan), is performed by injecting a type of sugar in your vein, following which the image of your body is captured by a special camera. It reveals where cancer has spread in the body by lighting up the tumor as "cancer hotspots."
Biopsy:
To study the histology of cancer and classify it, as well as confirm the diagnosis, a piece of the tumor is extracted from the body, which is called a biopsy. The biopsy can also be performed using an aspiration needle.
Fine-needle aspiration (FNA) biopsy of the lung involves extracting tissue or fluid from the lung through a slender needle. To locate the anomalous tissue or fluid within the lung, a CT scan, ultrasound, or other imaging technique is employed.9Mondal SK, Nag D, Das R, Mandal PK, Biswas PK, Osta M. Computed tomogram guided fine-needle aspiration cytology of lung mass with histological correlation: A study in Eastern India. South Asian J Cancer. 2013 Jan;2(1):14-8. doi: 10.4103/2278-330X.105881. PMID: 24455536; PMCID: PMC3876630.
If needed, a minor incision may be created in the skin to facilitate the insertion of the biopsy needle into the abnormal area. Utilizing the needle, a specimen is collected and subsequently dispatched to the laboratory for analysis. A pathologist examines the sample under a microscope to detect any cancerous cells. Following the procedure, a chest x-ray is conducted to verify the absence of any air leakage from the lung into the chest cavity.
Bronchoscopy:
Bronchoscopy involves passing a thin, flexible tube through your mouth into the bronchi in order to find the tumor and even take a biopsy.
Blood Tests:
While blood tests have a role in diagnosing cancer, they give your doctor relevant information about your overall health.
Treatment
Treating small-cell lung cancer involves multiple approaches. Usually, your doctor would come up with a combination of these treatments to give you the best chance at survival. Your treatment regimen depends on a multitude of factors, such as:
Stage of the cancer
Your age
Your comorbidities, i.e., co-existing health conditions
Here are some of the following most commonly used treatments:
Concurrent Chemo-Radiotherapy (CRT):
The standard treatment for SCLC is CRT, which is a combination of chemotherapy and radiotherapy. The drug of choice for chemotherapy is usually cisplatin and etoposide, both of which destroy cancer cells by inhibiting DNA synthesis. When it comes to the optimal radiation dose, it ranges anywhere from 1.5 Gy twice every day (total of 45 Gy)or 2 Gy once a day (total of 70 Gy).10Stinchcombe, T.E. and Gore, E.M., 2010. Limited-stage small cell lung cancer: current chemoradiotherapy treatment paradigms. The oncologist, 15(2), pp.187-195.
Surgery:
Surgical intervention might be considered if the SCLC is localized in a single lung and nearby lymph nodes exclusively. However, due to the propensity of this lung cancer type to manifest in both lungs, surgical measures in isolation are infrequent. Within the surgical procedure, lymph nodes are also extracted and examined for potential cancer presence. In certain cases, surgery may involve the removal of a lung tissue sample to determine the lung cancer subtype precisely.
Following the surgical removal of all observable cancer, some patients might receive postoperative chemotherapy or radiation therapy to eliminate any residual cancer cells. This post-surgery treatment, designed to mitigate the risk of cancer recurrence, is referred to as adjuvant therapy.
Immunotherapy:
Immunotherapy harnesses the body's immune system to combat cancer. It employs natural or lab-produced substances to enhance, guide, or restore the body's inherent defenses against cancer.
A specific form of immunotherapy known as immune checkpoint inhibitor therapy is applied to treat advanced cases of small-cell lung cancer.
This therapy encompasses PD-1 and PD-L1 inhibitor treatment: PD-1 is a surface protein on T cells that regulates immune responses, while PD-L1 is a protein found on certain cancer cells. When PD-1 binds to PD-L1, it inhibits T cells from eliminating cancer cells. PD-1 and PD-L1 inhibitors prevent this binding, enabling T cells to target and destroy cancer cells. Notably, PD-L1 inhibitors like atezolizumab and durvalumab fall under this category.11National Cancer Institute. (n.d.). Lung Cancer Treatment (PDQ®)–Patient Version. U.S. Department of Health and Human Services, National Institutes of Health. https://www.cancer.gov/about-cancer/treatment/drugs/lung
Prevention
The only way to prevent this disease is by avoiding smoking and other workplace pollutants mentioned earlier. Hence, even passive smoking has been linked to high incidence of SCLC. Hence, not only smoking personally but environmental conditions with smoke should also be avoided.
Conclusion
Each case of small-cell lung cancer is unique, and the survival rates are only estimates drawn from the experiences of a group of people. However, many patients live with small cell lung cancer for a long time with a good quality of life, thanks to advanced treatments and better screening tools. Cease smoking if you do, and contact your healthcare provider for further help.
Refrences
1

Basumallik, N. and Agarwal, M., 2022. Small cell lung cancer. In StatPearls [internet]. StatPearls Publishing.

2

Rudin CM, Brambilla E, Faivre-Finn C, Sage J. Small-cell lung cancer. Nat Rev Dis Primers. 2021 Jan 14;7(1):3. doi: 10.1038/s41572-020-00235-0. PMID: 33446664; PMCID: PMC8177722.

3

Sher, T., Dy, G.K. and Adjei, A.A., 2008, March. Small cell lung cancer. In Mayo Clinic Proceedings (Vol. 83, No. 3, pp. 355-367). Elsevier.

4

Bernhardt, E.B. and Jalal, S.I., 2016. Small cell lung cancer. Lung Cancer: Treatment and Research, pp.301-322.

5

Basumallik, N. and Agarwal, M., 2022. Small cell lung cancer. In StatPearls [internet]. StatPearls Publishing.

6

Rossi, A., Maione, P., Colantuoni, G., Guerriero, C., Ferrara, C., Del Gaizo, F., Nicolella, D. and Gridelli, C., 2005. Treatment of small cell lung cancer in the elderly. The Oncologist, 10(6), pp.399-411.

7

Yang, C.F.J., Gu, L., Shah, S.A., Yerokun, B.A., D'Amico, T.A., Hartwig, M.G. and Berry, M.F., 2018.

8

Panunzio, A. and Sartori, P., 2020. Lung cancer and radiological imaging. Current radiopharmaceuticals, 13(3), pp.238-242.

9

Mondal SK, Nag D, Das R, Mandal PK, Biswas PK, Osta M. Computed tomogram guided fine-needle aspiration cytology of lung mass with histological correlation: A study in Eastern India. South Asian J Cancer. 2013 Jan;2(1):14-8. doi: 10.4103/2278-330X.105881. PMID: 24455536; PMCID: PMC3876630.

10

Stinchcombe, T.E. and Gore, E.M., 2010. Limited-stage small cell lung cancer: current chemoradiotherapy treatment paradigms. The oncologist, 15(2), pp.187-195.

11

National Cancer Institute. (n.d.). Lung Cancer Treatment (PDQ®)–Patient Version. U.S. Department of Health and Human Services, National Institutes of Health. https://www.cancer.gov/about-cancer/treatment/drugs/lung