Overview
Inflammatory Polycystic Ovary Syndrome (PCOS) is a medical condition characterized by persistent inflammation that disrupts the delicate balance of hormonal production. This disruption gives rise to potential complications through disturbances in physiological processes and the emergence of various physical symptoms. This condition primarily impacts ovaries, prompting an overproduction of primary male sex hormones. Consequently, this hormonal imbalance poses challenges to maintaining both physical well-being and reproductive health in affected women.
Normally, the female body secretes the primary male sex hormone in the range between 15 and 70 ng/dL 1Sheehan M. T. (2004). Polycystic ovarian syndrome: diagnosis and management. Clinical medicine & research, 2(1), 13–27. https://doi.org/10.3121/cmr.2.1.13. This amount fluctuates according to the monthly reproductive cycle of a female. However, if this range reaches 150ng/dL or greater than that, it will signify the presence of polycystic ovaries. This condition makes women prone to ovulation problems and affects their fertility rate in extreme cases.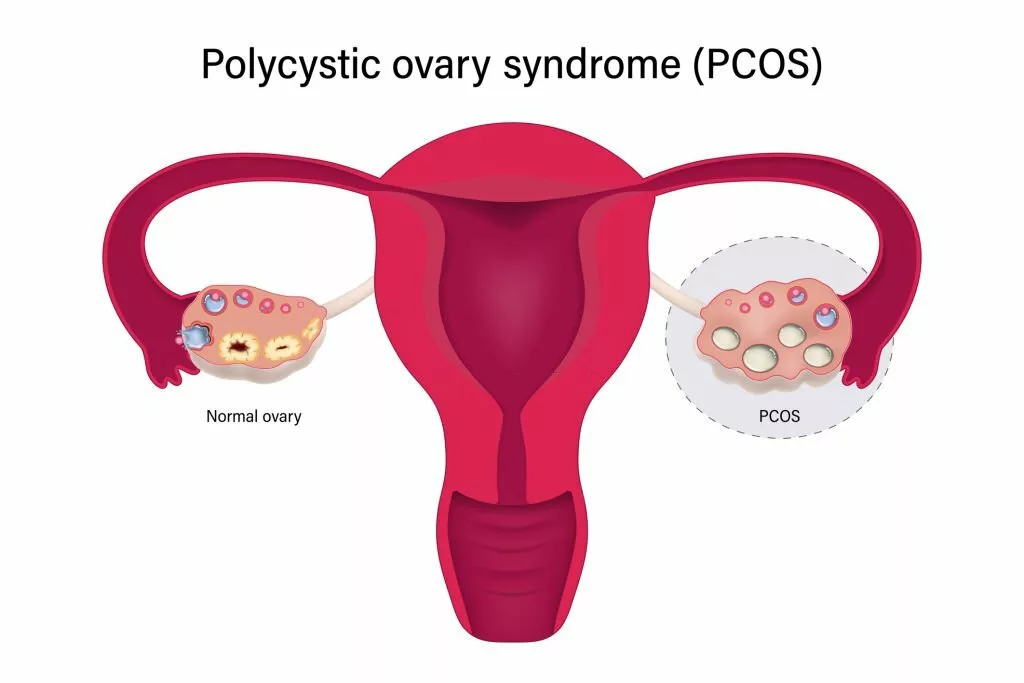 Definition
An inflammatory polycystic ovarian syndrome is a medical disorder that is caused by the presence of a low-grade inflammatory process in the female body for a long time and causes the ovaries to secrete androgens in excessive amounts. PCOS is not typically classified into distinct subtypes known as "inflammatory PCOS." However, there is a growing body of research suggesting that inflammation plays a significant role in the development and progression of PCOS. Dysregulated levels of hormones produced by the ovaries disturb multiple physical and psychological processes and affect a healthy lifestyle2Patel S. (2018). Polycystic ovary syndrome (PCOS), an inflammatory, systemic, lifestyle endocrinopathy. The Journal of steroid biochemistry and molecular biology, 182, 27–36. https://doi.org/10.1016/j.jsbmb.2018.04.008
How Does Inflammatory PCOS occur?
The exact process of this inflammatory disorder is not well established. However, studies show that when a patient encounters an inflammatory process for a long time in her life, her body develops compensating mechanisms3Rudnicka, E., Suchta, K., Grymowicz, M., Calik-Ksepka, A., Smolarczyk, K., Duszewska, A. M., Smolarczyk, R., & Meczekalski, B. (2021). Chronic Low-Grade Inflammation in Pathogenesis of PCOS. International journal of molecular sciences, 22(7), 3789. https://doi.org/10.3390/ijms22073789. One such mechanism is the uncontrolled release of testosterone, a male sex hormone, from ovaries. The increased level of testosterone imparts multiple clinical signs like weight gain, excessive facial hair growth, irregular periods, difficulty in fertility, and many more.
Causes of inflammatory PCOS
There are various causes of inflammatory causes of PCOS. The following are the most common causes of inflammatory PCOS.
Low-grade, long-standing inflammation
In Chronic inflammation, the body responds to the stimulus, and this process continues even when the infection subsides. The intensity of response increases or decreases, but it never ends completely. The most common factors contributing to chronic inflammation are:
High body mass index – Having a higher than recommended weight relative to one's height, indicating potential health risks.
Psychological distress – Emotional or mental strain that can negatively impact well-being.
Chronic smoking habit – Regular, long-term smoking of tobacco products, which can lead to serious health problems.
Alcohol intake – The consumption of alcoholic beverages, which may have various effects on physical and mental health depending on the amount and frequency.
Oxidative stress – An imbalance between antioxidants and harmful molecules (free radicals) that can damage cells and contribute to various diseases.
Disturbed immune response
In some cases, the immune system starts fighting against the healthy cells of the body by considering them foreign stimuli and creating a situation called an autoimmune disorder. In this disorder, the body is subjected to continuous inflammatory markers even if no harmful stimulus enters the body. This condition affects all body structures, including ovaries.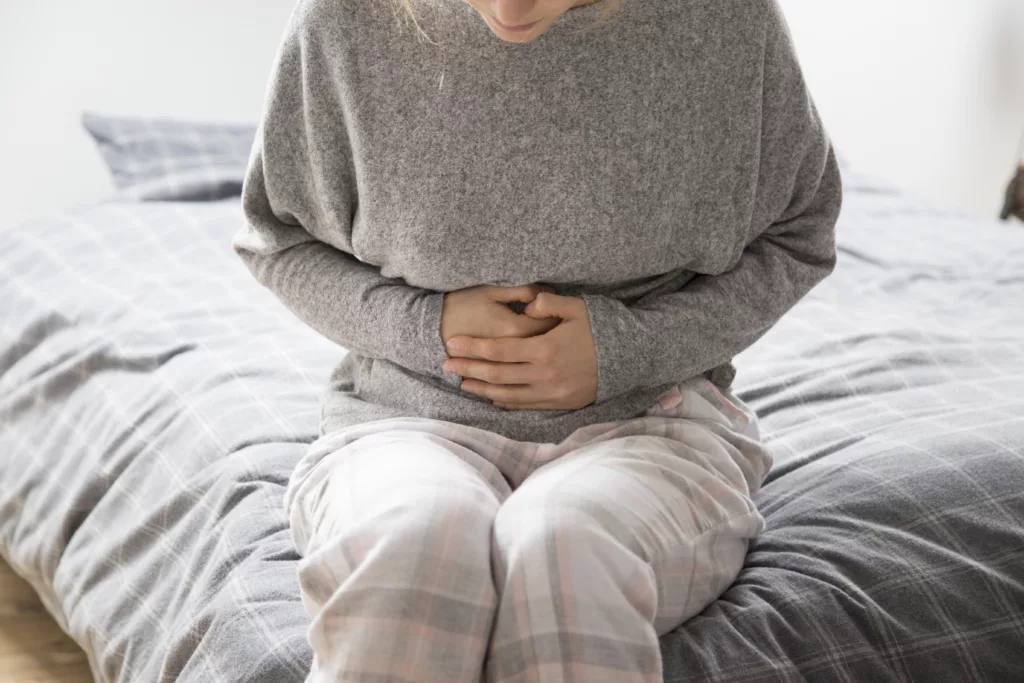 Gastric upset
Some females are prone to gastrointestinal problems like inflammatory bowel syndrome or gut infections due to their poor dietary habits. This continuous infection gives a signal to the body to combat infection and, therefore, culminates in a long-standing inflammatory process.
Excess Fat deposition
Excessive accumulation of adipose tissue(fat) under the skin enhances the release of adipokines. Adipokines act as miniature messengers released by fat cells within our body. These messengers communicate with other cells, instructing and guiding their actions. They can affect how our body uses energy, control inflammation, and even influence how hungry or full we feel. So, they play an important role in keeping our body balanced and healthy. These molecules make the body resistant to insulin and start a low-grade inflammatory process. Therefore, obesity is the main cause of this issue.4Ellulu MS, Patimah I, Khaza'ai H, Rahmat A, Abed Y. Obesity and inflammation: the linking mechanism and the complications. Arch Med Sci. 2017 Jun;13(4):851-863. doi: 10.5114/aoms.2016.58928. Epub 2016 Mar 31. PMID: 28721154; PMCID: PMC5507106.
Poor Dietary habits
Patients with inflammatory PCOS have been shown to follow poor dietary habits. A greater intake of sugar in the form of glucose induces oxidative stress in the body. This oxidative stress induces the inflammatory process in the body.
Clinical symptoms for PCOS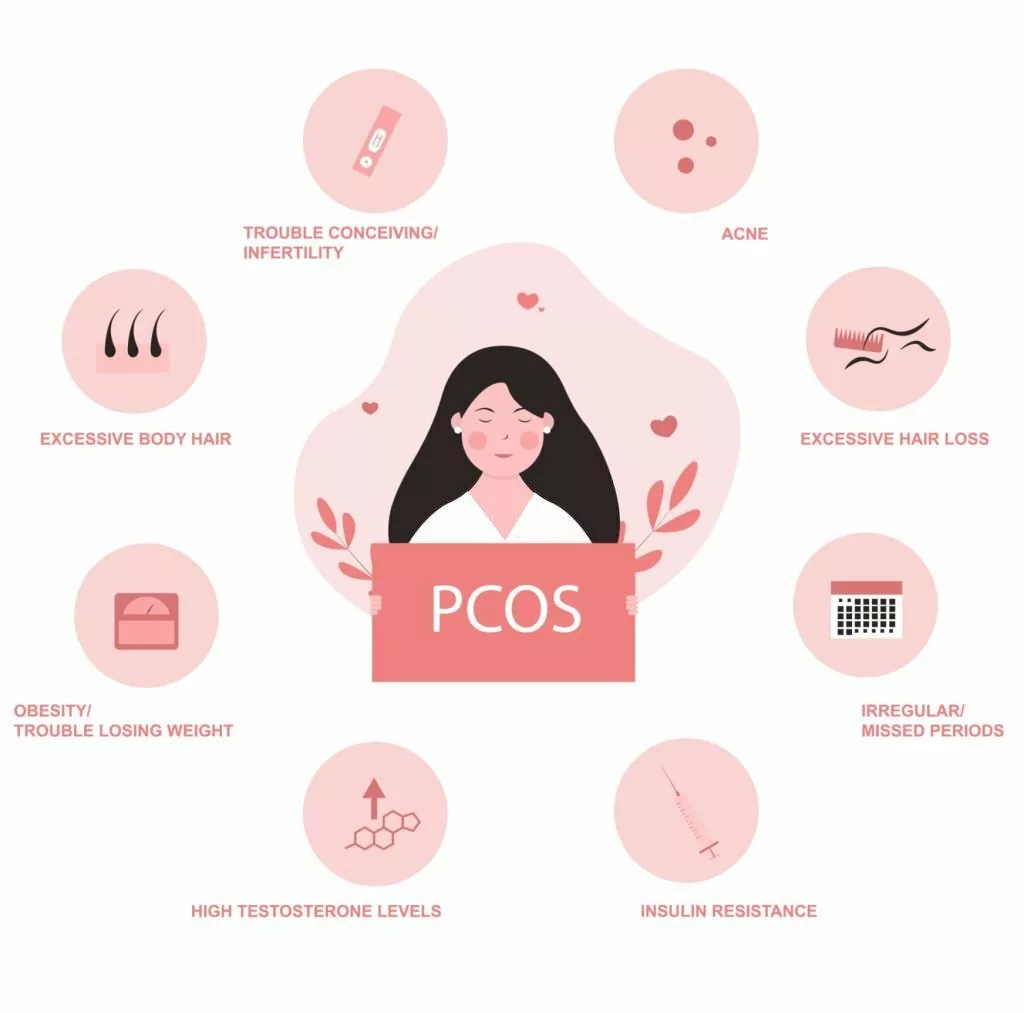 Every patient presents different symptoms. Multiple genetic and environmental factors play an important role in this disease's presentation. That's why every female experiences different physical and psychological problems. The following major symptoms are given below.
Disturbed menstruation cycle
Dysregulated androgen(hormone) levels in the body disrupt the monthly reproductive cycle of females. These disruptions manifest as a spectrum of menstrual irregularities, encompassing scenarios such as the absence of menstrual bleeding (known as Amenorrhea), instances of excessive bleeding (Menorrhagia), the occurrence of distressing and painful uterine contractions (Dysmenorrhea), heightened frequency of menstrual cycles (Polymenorrhea), or the prolonged duration of the menstrual cycle itself.
Weight problems
Most of the females suffering from inflammatory PCOS are subjected to uncontrolled weight gain. Despite strict dietary routines or preventive measures, it becomes difficult for females to lose significant weight. However, very few percent of patients come with a normal body mass index.
Excessive hair growth
As the male sex hormone level in females with PCOS increases from an average level, females have become prone to secondary sexual characteristics of males. This includes excessive hair growth on the face, chest, and other body parts.
Rough skin texture
Females with this problem have suffered from rough and dry skin patches with a greater incidence of acne. Most of the females develop stubborn acne problems that are difficult to manage.
Hair problems
Increased level of testosterone affects females' hair by making them thin and rough in texture. Some patients also experience loss of hair around the temple region and see their hairlines going backward. Normally, this baldness pattern is associated with males.
Ovarian tumors
As ovaries become cystic, there becomes some evident fluid-filled mass near one or both ovaries. This outgrowth has become a greater source of ovarian tumors.
Psychological problems
Disrupted hormonal levels and abnormal physical features make patients with PCOS vulnerable to mental stress 5Kolhe, J. V., Chhipa, A. S., Butani, S., Chavda, V., & Patel, S. S. (2022). PCOS and Depression: Common Links and Potential Targets. Reproductive sciences (Thousand Oaks, Calif.), 29(11), 3106–3123. https://doi.org/10.1007/s43032-021-00765-2. They experience anxiety, depression, and low self-esteem. Patients might develop bipolar disorder due to their mood swings.
Potential complications caused by Inflammatory PCOS
Despite facing difficulties in managing the physical and psychological symptoms of inflammatory PCOS, patients should take treatment interventions and lifestyle changes as soon as they get their diagnosis done. Otherwise, they might develop some potential complications, which are given below.
Infertility
Due to low-grade inflammation in the body, the anatomy and morphology of the ovaries, the main reproductive organs of females, get disrupted. As a result, patients face difficulty with egg count, undergoing fertilization of male sperm with egg, or conceiving the fertilized egg. This inability to overcome the above issues causes infertility in patients.
Type 2 Diabetes
The continuous presence of inflammatory markers in the body causes insulin resistance in the body. This resistance is the major cause of type 2 Diabetes in females.
Cardiac problems
Similarly, in the environment of chronic inflammation, simple dietary triggers like glucose can provoke oxidative stress in the body cells. The most commonly affected cells are heart cells, and as a result, patients are at high risk of developing heart problems 6Osibogun, O., Ogunmoroti, O., & Michos, E. D. (2020). Polycystic ovary syndrome and cardiometabolic risk: Opportunities for cardiovascular disease prevention. Trends in cardiovascular medicine, 30(7), 399–404. https://doi.org/10.1016/j.tcm.2019.08.010
Diagnosis for Inflammatory PCOS
The patient should give a complete medical history, including the significant body changes that occurred in his body. After completing the examination process and confirmation of hyperandrogenism, the patient's blood test is done to evaluate the level of inflammatory markers that are raised in this condition. It confirms the presence of low-grade inflammation in the body7Khichar A, Gupta S, Mishra S, Meena M. Assessment of Inflammatory Markers in Women with PCOS and their Correlation with Insulin Resistance. Clin Lab. 2021 Nov 1;67(11). doi: 10.7754/Clin.Lab.2021.210310. PMID: 34758238.
Treatment intervention for inflammatory PCOS
To overcome any medical condition, the patient needs to understand the underlying cause of the problem. As inflammatory PCOS is caused by chronic inflammation, the best course of action to combat this disorder is to overcome chronic inflammatory processes in the body. Because doing so will help females' body organs work healthily8Luan, Y. Y., Zhang, L., Peng, Y. Q., Li, Y. Y., Liu, R. X., & Yin, C. H. (2022). Immune regulation in polycystic ovary syndrome. Clinica chimica acta; International Journal of Clinical Chemistry, 531, 265–272. https://doi.org/10.1016/j.cca.2022.04.234. Consequently, the issue of disrupted hormonal levels will be resolved, and all the clinical symptoms will be subsided. To stop the chronic inflammatory process in the body, patients need to adopt healthy lifestyles, anti-inflammatory dietary habits, and inflammation-suppressing pharmacological interventions.
Lifestyles changes
We can incorporate the following lifestyle changes:
Adhere rigorously to a consistent exercise regimen.
Steer clear of emotional stressors.
Foster an environment that nurtures your psychological well-being.
Seek guidance from a nutritionist to embark on a journey towards wholesome weight loss.
Expose your body to sunlight to access a natural source of vitamin D.
Anti-inflammatory diet for PCOS
An anti-inflammatory diet will help the patient to avoid all types of triggers to chronic inflammation. However, different types of diets benefit different patients. To ensure the most effective approach, it is advisable to engage with a nutritionist, sharing a comprehensive medical history and taking any potential food allergies into account. Incorporating antioxidant-rich foods, such as fish, whole grains, and leafy green vegetables, is a common and valuable aspect of this dietary approach. These foods can effectively contribute to reducing oxidative stress and inflammation within the body.9Kiani, A. K., Donato, K., Dhuli, K., Stuppia, L., & Bertelli, M. (2022). Dietary supplements for polycystic ovary syndrome. Journal of preventive medicine and hygiene, 63(2 Suppl 3), E206–E213. https://doi.org/10.15167/2421-4248/jpmh2022.63.2S3.2762. Raw food products with no sugar work best to reduce inflammation.
Supplements for inflammatory PCOS
If you're dealing with PCOS (Polycystic Ovary Syndrome), incorporating certain supplements into your routine might offer some support alongside other management strategies. Inositol, for instance, has shown promise in enhancing insulin sensitivity and hormone regulation. Vitamin D is often recommended, as it can help manage insulin levels and promote reproductive well-being. Omega-3 fatty acids, found in supplements like fish oil, possess anti-inflammatory properties that could help alleviate some PCOS symptoms. 10Frias-Toral, E., Garcia-Velasquez, E., de Los Angeles Carignano, M., Rodriguez-Veintimilla, D., Alvarado-Aguilera, I., & Bautista-Litardo, N. (2022). Polycystic ovary syndrome and obesity: clinical aspects and nutritional management. Minerva endocrinology, 47(2), 215–241. https://doi.org/10.23736/S2724-6507.21.03349-6. Similarly, patients can also intake zinc and magnesium supplements 11Regidor, P. A., Schindler, A. E., Lesoine, B., & Druckman, R. (2018). Management of women with PCOS using myo-inositol and folic acid. New clinical data and review of the literature. Hormone molecular biology and clinical investigation, 34(2), /j/hmbci.2018.34.issue-2/hmbci-2017-0067/hmbci-2017-0067.xml. https://doi.org/10.1515/hmbci-2017-0067.
In summary, poor lifestyles and dietary habits lead to the prevalence of inflammatory PCOS among a considerable percentage of females. However, making substantial changes in lifestyle and diet empowers the patient to embrace a healthy life.
Refrences
1

Sheehan M. T. (2004). Polycystic ovarian syndrome: diagnosis and management. Clinical medicine & research, 2(1), 13–27. https://doi.org/10.3121/cmr.2.1.13

2

Patel S. (2018). Polycystic ovary syndrome (PCOS), an inflammatory, systemic, lifestyle endocrinopathy. The Journal of steroid biochemistry and molecular biology, 182, 27–36. https://doi.org/10.1016/j.jsbmb.2018.04.008

3

Rudnicka, E., Suchta, K., Grymowicz, M., Calik-Ksepka, A., Smolarczyk, K., Duszewska, A. M., Smolarczyk, R., & Meczekalski, B. (2021). Chronic Low-Grade Inflammation in Pathogenesis of PCOS. International journal of molecular sciences, 22(7), 3789. https://doi.org/10.3390/ijms22073789

4

Ellulu MS, Patimah I, Khaza'ai H, Rahmat A, Abed Y. Obesity and inflammation: the linking mechanism and the complications. Arch Med Sci. 2017 Jun;13(4):851-863. doi: 10.5114/aoms.2016.58928. Epub 2016 Mar 31. PMID: 28721154; PMCID: PMC5507106.

5

Kolhe, J. V., Chhipa, A. S., Butani, S., Chavda, V., & Patel, S. S. (2022). PCOS and Depression: Common Links and Potential Targets. Reproductive sciences (Thousand Oaks, Calif.), 29(11), 3106–3123. https://doi.org/10.1007/s43032-021-00765-2

6

Osibogun, O., Ogunmoroti, O., & Michos, E. D. (2020). Polycystic ovary syndrome and cardiometabolic risk: Opportunities for cardiovascular disease prevention. Trends in cardiovascular medicine, 30(7), 399–404. https://doi.org/10.1016/j.tcm.2019.08.010

7

Khichar A, Gupta S, Mishra S, Meena M. Assessment of Inflammatory Markers in Women with PCOS and their Correlation with Insulin Resistance. Clin Lab. 2021 Nov 1;67(11). doi: 10.7754/Clin.Lab.2021.210310. PMID: 34758238.

8

Luan, Y. Y., Zhang, L., Peng, Y. Q., Li, Y. Y., Liu, R. X., & Yin, C. H. (2022). Immune regulation in polycystic ovary syndrome. Clinica chimica acta; International Journal of Clinical Chemistry, 531, 265–272. https://doi.org/10.1016/j.cca.2022.04.234

9

Kiani, A. K., Donato, K., Dhuli, K., Stuppia, L., & Bertelli, M. (2022). Dietary supplements for polycystic ovary syndrome. Journal of preventive medicine and hygiene, 63(2 Suppl 3), E206–E213. https://doi.org/10.15167/2421-4248/jpmh2022.63.2S3.2762

10

Frias-Toral, E., Garcia-Velasquez, E., de Los Angeles Carignano, M., Rodriguez-Veintimilla, D., Alvarado-Aguilera, I., & Bautista-Litardo, N. (2022). Polycystic ovary syndrome and obesity: clinical aspects and nutritional management. Minerva endocrinology, 47(2), 215–241. https://doi.org/10.23736/S2724-6507.21.03349-6

11

Regidor, P. A., Schindler, A. E., Lesoine, B., & Druckman, R. (2018). Management of women with PCOS using myo-inositol and folic acid. New clinical data and review of the literature. Hormone molecular biology and clinical investigation, 34(2), /j/hmbci.2018.34.issue-2/hmbci-2017-0067/hmbci-2017-0067.xml. https://doi.org/10.1515/hmbci-2017-0067